FRONT BUMPER
A two day marathon has produced my new front bumper, grill guard, light mount, winch mount etc. This is one of those projects that when you get done with you can't believe how good it turned out. The original bumper was the chromed unit made from I would guess, 18~20 guage steel. The entire thing weighed in at under 5Lbs. The new unit comes in just over 50Lbs and is made of 1/4 in thick and 3/8 in thick steel. The new unit is mounted at the stock bumper mount locations and at the tow hooks that are layered into the frame.
The hitch receiver is used as a mount point for the winch, hitch, and license plate. This allows for the winch to be hooked up in the rear or front, depending on whether the non-Subaru in front of you or behind you gets stuck.
Step one, shoppin for steel, lights and other stuff.
Step two, measure cut weld etc.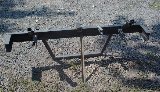 Step three, paint, install lights and hooks.
Step four, install!